Stand Out Sports is pleased to announce that Noah Wagner from Rink Hockey Academy, CSSHL Midget Prep, has joined the Minnesota Wilderness of the North American Hockey League. The Wilderness play out of Cloquet, Minnesota in the Central Division of the NAHL and graduated 13 players to NCAA Division I & III programs in 2018/2019 alone.
Noah is from Winnipeg, Manitoba and started his career with St. Boniface Seals. In his first year of Bantam he joined the Winnipeg Warriors of the WABAAA2 where he put up 20 PTS in 20 Games. His impressive play earned him a call up to play for the AAA team where he notched 2 points in 3 games.
During his bantam draft year, Noah made the move to the CSSHL. He had a successful campaign with Rink Hockey Academy and notched 28 points in 30 games. His performance got him listed by the Brandon Wheat Kings and drafted 17th overall in the 2017 MJHL draft by the Winnipeg Blues. Additionally, his play earned him a spot on Team Manitoba at the WHL Cup where they earned a Bronze medal.
In his E15 year with Rink, Noah's father Jason contacted Stand Out Sports and we recorded Rink in Vernon at an E15 showcase. During the showcase, Noah racked up 6 points in 4 games and made the most of the opportunity to exhibit his potential.
Following a successful first video, we were fortunate to work with Noah at the 2018 CSSHL Championships where he was instrumental in the most historic upset that Stand Out Sports has recorded. This particular game was in the round robin game against a powerhouse Northern Alberta Xtreme (Edmonton, Alberta)  E15 squad, loaded with draft picks and who were riding a 50+ game unbeaten streak.
After going down 1-0 at 8:59 in the first, Noah used his grit and hustle to win a foot race and out muscle a defenseman, steal the puck and score on a sneaky wrap around to tie the game. This goal and a couple of big hits stifled the momentum of NAX going into the dressing room at the intermission. In the second, Rink came out flying and put an additional 2 goals on the board which were enough to keep NAX at bay. Noah's defensive play and continued success in the faceoff circle, particularly at the end of the game were on display and helped the Rink seal the W, snapping NAX's unparalleled win streak.
Following this game, he had a 2 point performance (1 G, 1A) in a barn burner of a 6-5 overtime win in the semifinals. He came out flying and grabbed the primary assist on the opener in the first two minutes and was able to put the third goal on the board to make it 3-0. Again, his physical play was instrumental in keeping Yale in check.
In the CSSHL E15 finals, NAX and Rink had their rematch. Noah's physical play was in full effect, throwing monster hits, getting under the opponents skin, while staying out of the box.  He was part of a rally that earned the proximity goal to make it 3-2 NAX, however Rink fell short in the finals.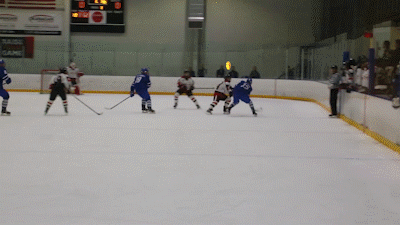 At the conclusion of his E15 season, it was clear that Noah was a big game player, had a nose for the net and expertly used his frame to devastate opponents and get under their skin.
During Noah's Midget Prep season, due to scheduling and geography, opportunities to work with the Wagner's became sparse and we had to get creative to build Noah's recruiting video.
Firstly, we were collectively able to get some clips and made a video through our "Editing Services" and Stand Out Sports dispatched a videographer in Winnipeg to film a game.
We also worked with Noah at the 2019 Championships. Rink played some dramatic games and were inches away from making the semi finals. In the first round robin game, they were beaten 6-5 in the last 5 seconds of the game vs Yale on what can only be described as a controversial penalty call late in the game. They went on to beat Burnaby Winter Club 4-3 in OT and Shawnigan Lake 4-0, but unfortunately it wasn't enough.
At the request of his coach, Noah's role shifted to more of a role player during these games and it showed great versatility in his game. Noah was fearless with his physical play and was always the first to defend his teammates. Most importantly, Noah's attitude remained first class. Despite the shift in his role, he was able to put up 23 points in 30 CSSHL games (7G,16A) in his first year of Midget Prep.
After exploring some options, Noah was signed to the Wilderness after impressing the coach on a 3-day tryout in person. This was the major event that ultimately lead to his success and resulted in the signing.
During this process, Jason let us know how helpful video was during the Wagner's recruiting process and he had this to say:
"Stand Outs Sports has been an instrumental part of capturing the clips that show what type of player Noah is. They are extremely professional, easy to work with and efficient in what they do. Noah's received multiple compliments on any videos he shared with scouts and colleges alike. It's challenging for teams to be in multiple places at one time and they appreciate receiving footage on players to help make their job easier."
At this stage, one thing is clear, Noah's journey is far from over.  His talent, hard work, commitment to the game and attitude will take him further and we're excited to have been a part of it while navigating this complex landscape at this critical junction.
From the team at Stand Out Sports, we wish Noah the best of luck down in Minny and we're excited to see what the future brings!
Stand Out Sports
Sources:
Elite Prospects: https://www.eliteprospects.com/player/408496/noah-wagner