Stand Out Sports is pleased to announce that Matt Kinash, formerly of OHA Edmonton and currently of the Drayton Valley Thunder of the AJHL, has committed to Brown University for the 2020-21 season.
The Brown Bear's are an NCAA Division I team playing out the Meehan Auditorium in Providence, Rhode Island and are a member of the Eastern College Athletic Conference. Brown is an Ivy League School and is one of the NCAA's oldest hockey programs, having played their first game in 1898.
Matt grew up in Edmonton, Alberta and played his Bantam and Minor Midget years for South Side Athletic Club. In the Edmonton & Rural Bantam AA Hockey League (ERBHL) he amassed a total of 38 points (19 goals and 19 assists) in 30 games. Following a successful bantam campaign, he followed it up with a 57 point Minor Midget season (27 goals and 30 assists) in the Rural & Edmonton Midget 15AA Hockey League (REMHL).
After a successful minor hockey career, he made the jump to the academy system in the CSSHL, joining OHA Edmonton in the Midget Prep division. During his time with OHA Edmonton, Matt played 90 games in three seasons and amassed a total of 97 points (46 goals and 51 assists). It was during this time that Matt's family contacted Stand Out Sports during the 2017-18 season.
SOS filmed Matt and some of his teammates at two showcase events in Penticton in September and November. In 5 games, Matt put up an impressive 10 points (7 goals and 3 assists)  and captained the team to some impressive wins.
After watching Matt, one thing was clear to the SOS team, Matt could score goals and was an extremely intelligent player in all areas of the ice. Matt even commented on the composition and play selection of our editing team saying:
"I think the best things about the videos were the attention to detail. They weren't just highlights of goals or assists, it showed things like face offs, passes, puck handling and skating. I feel like these things help you get noticed more than just point totals."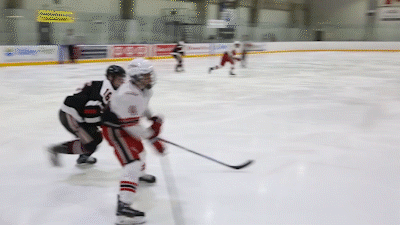 With an impressive video, a mature understanding of the game and exceptional grades, Matt set his sights on the future.  He wanted to secure a spot in Jr. A, close to home to develop his skills further before making the jump to College. He played a game for the Whitecourt Wolverines in the 2017-18 season and was ready to make the transition. After a successful camp with the Drayton Valley Thunder of the Alberta Junior Hockey League, he was signed as a full time player for the 2018-19 season.
Reflecting on the recruitment process with Drayton Valley, Matt said:
"The video you guys made for me definitely helped my exposure to coaches. The video was professional, great quality and easy to track. Not all scouts can be at your games so this was the best alternative to get my name out there."
After signing Matt, Eric Thurston, Head Coach and General Manager of the Thunder, was quoted on his addition stating:
"Matthew plays the game with exceptional speed and skill. He possesses a very quick release and will be a guy to turn to for offensive production. He was the captain of his Midget Prep team at OHA and is a great leader on and off the ice."
Mr. Thurston was correct. In his rookie year in the 2018-19 season, Matt was a catalyst of the Thunder's offence and put up an impressive 42 points (17 goals and 25 assists) in 60 games. Currently, in the 2019-20 season as of January 15, 2020 he's upped his pace and has 23 points in 22 games .
During this time, Matt was examining options to reach his goal of playing College hockey. In addition to this impressive play on the ice, he's an excellent student and self starter, all factors that led to a smooth recruiting process with Brown. Matt commented on the process saying:
"The process with Brown has been smooth. I contacted them expressing my interest in their academic and athletic program. They thought I could fit in well with the team while getting an excellent education. It was a no brainer for me to want to go there."
On January 15, 2020 the CSSHL announced Matt's commitment and the rest is history.
The team at SOS is happy to have been a part of Matt's journey. Not only will Brown be getting an excellent player, they made a decision on an excellent person, someone with a tremendous work ethic on and off the ice who understands that in order to keep the flame burning in your athletic career, you have to create your own spark.
We wish Matt well on his continued success and we're stoked to see him blaze the trail he has chosen.
Stand Out Sports
Sources:
Player Profile
https://www.eliteprospects.com/player/403206/matthew-kinash
Drayton Valley Announcement
https://www.draytonvalleythunder.ca/media-centre/amp/article.html?rYear=2018&nID=13778
Brown Commitment
https://www.draytonvalleythunder.ca/media-centre/amp/article.html?rYear=2020&nID=16610